I personally love exploring historical places. What about you? How silly of me! You are reading this article so obviously, you are interested in historical places too. (duh) Through this blog, I am recommending you these 25 must-visit historical places in India which you should absolutely explore once.
There are a plethora of astonishing historical places in India worth visiting as magnificent history and glorifying culture is what defines India. But this blog would have expanded to 10,000 words or maybe more if I had mentioned all. So, I have not included top tourist destinations like Agra, Delhi or the famous historical monuments of Rajasthan.
Must-Visit Historical Places in India –
1. Golconda Fort, Hyderabad (Telangana) –
This fort is what you say – A blast from the past. (uh-huh) A trip to Hyderabad is surely incomplete if you haven't traveled back in time with Golconda Fort. What's interesting about this fort is, if you clap at Fateh Darwaja, it can be heard at the highest point of the fort which is approx. 1 km. away. Wow! By the way, Golconda is renowned for the diamonds whether its Kohinoor or any other.
2. Shore Temple, Mahabalipuram (Tamil Nadu) –
Dating back to 8th century AD, this temple comprises of three shrines, two of which are dedicated to Lord Shiva and the other one is dedicated to Lord Vishnu. The architecture of this phenomenal temple would leave you speechless. It's named Shore Temple because the shore of Bay of Bengal i.e. the northeastern part of Indian Ocean is quite visible from this temple.
3. Veerbhadra Temple, Lepakshi (Andhra Pradesh) –
This wonderful marvel of Ancient Indian Architecture dates back to the 16th century. There's not only an enormous Nandi (Bull) structure carved from a single piece of rock but also a pillar that hangs in the air leaving enough space to pass a sheet of paper known as Hanging Pillar.
4. Victor Jubilee Palace, Cooch Behar (West Bengal) –
Following the architectural concept of Buckingham Palace of London, this palace was built in 1887. It is also known as Cooch Behar Palace. This palace has been developed into a museum displaying various artifacts collected by the royal family as well as their heritage.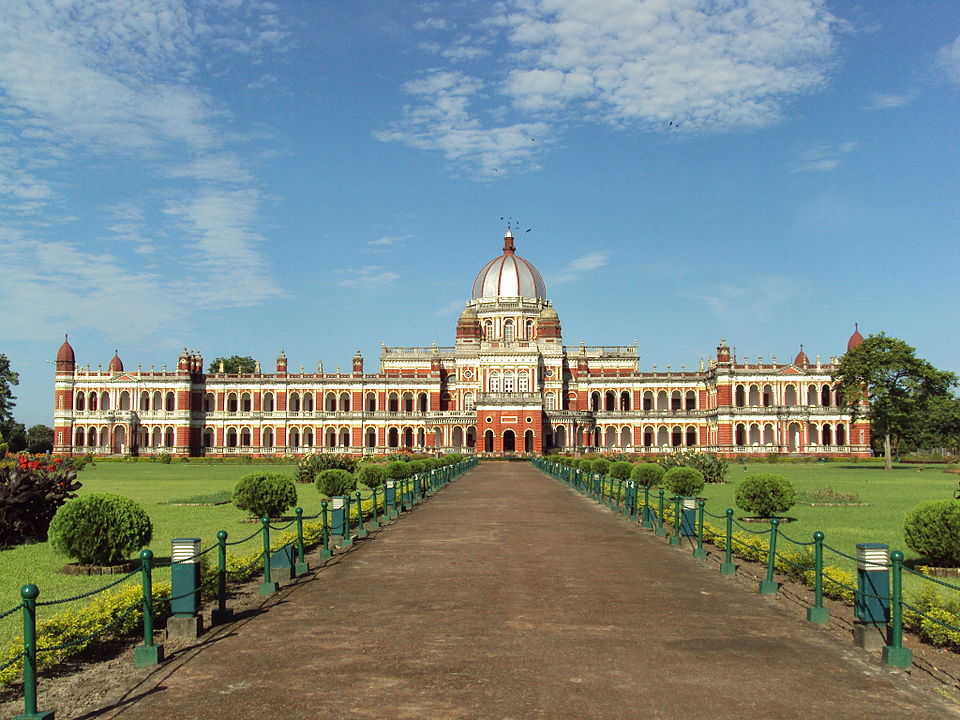 5. Virupaksha Temple, Hampi (Karnataka) –
Hampi was formerly known as Kishkindha and Virupaksha is a form of Lord Shiva. The temple was originally built by Chalukyas in the 7th century but later, it was expanded by Krishnadevaraya. The most fascinating part of this temple is its pillars. Oh, wait! Not just the simple pillars. They are musical pillars. Can you imagine how they would have created such a wonder?
6. Mahabat Maqbara, Junagadh (Gujarat) –
Mahabat Maqbara Palace is a Mausoleum built by Nawab Mahabat Khan II between 1851 to 1882. I have mentioned this place in this list because of its remarkable ancient structure. You are not allowed to witness the interior but if you ever travel to Gir National Park, do visit this place once.
7. Phugtal Monastery, Ladakh (Jammu & Kashmir) –
Located in the remote area, Phugtal Monastery is one of the only Buddhist monasteries in Ladakh that can only be accessed by foot. Yes! You read it right. The most fascinating part about this monastery is that it is situated under a cliff. Trekking to this monastery is quite an adventure as you have to cross the tunnels and bridges and a lot more.
8. Masrur Temples, Kangra (Himachal Pradesh) –
Also known as Rock Cut Temples of the early 8th century, this place is waiting for more and more history buffs. The detailed carvings will assuredly win your heart. Though the 1905 earthquake damaged most of its structure, it still holds the history you are looking for.
9. Badami Caves, Badami (Karnataka) –
With a set of four distinct caves shaped from red sandstone mountains of the 6th century, Badami caves give you a mesmerizing view of Agastya Lake and Bhoothnath Temple. The stunning rock-cut sculptures of various avatars of Lord Vishnu, Lord Mahavira, and Gautam Buddha are truly imposing and phenomenal.
10. Jahangir Mahal, Orchha (Madhya Pradesh) –
Like an abandoned treasure, this palace positively deserves your attention. It was constructed in the 17th century A.D. with an intention to honour Mughal Emperor Jahangir hence it's called Jahangir Mahal. It's a perfect combination of Indo-Islamic architecture. Take a guide along with you to experience the past before your eyes.
11. Hoysaleswara Temple, Halebidu (Karnataka) –
A marvelous 12th century Hindu Temple dedicated to Lord Shiva, also known as Halebidu Temple. A true history buff can easily spend a few hours praising the intricacies in each sculpture and still won't feel content with the stories. It's unquestionably Karnataka's pride.
12. Bhangarh Fort, Alwar (Rajasthan) –
Surviving with the tag, 'One of the most haunted places in Asia' the 16th-century Bhangarh Fort is a hidden gem of Rajasthan with a fascinating story behind it. Visitors are now allowed after 6 pm not because the fort is haunted but because it is surrounded by the treacherous Sariska forest.
13. Udayagiri and Khandagiri Caves, Bhubaneshwar (Odisha) –
The caves of Udagayiri which means Hill of Sunrise and Khandagiri which means Broken Hills marked an exclusive spot in Indian History and rock-cut architecture. These caves served as a monastery in 2nd century BC where Buddhist monks used to meditate. The steep climbing may drain your energy but the beautifully carved inscriptions would definitely get you going.
14. Kumbhalgarh Fort, Kumbhalgarh (Rajasthan) –
Declared as UNESCO World Heritage Site in 2013, Kumbhalgarh Fort proudly sings the lore of the brave Rana Kumbha who built this Fort in the 15th century. Known for the second largest wall in the World stretching over 38 km after the Great Wall of China, which is first, Kumbhalgarh Fort is one of its kind. When you visit the Kumbhalgarh Fort, don't miss the light and sound show at night.
15. Warangal Fort, Warangal (Telangana) –
Constructed between 12th and 13th century, the remains of Warangal Fort are well-maintained by Archaeological Survey of India. To be precise, this palace is a true example of elegant ancient artistry. If you ever visit Warangal, don't forget to take out some time for this wonderful place.
16. Unakoti Hill, Unakoti (Tripura) –
Unakoti Hill, in simple words, is a treat to the eyes. The exquisite carvings of Gods and Goddess throughout the hill would leave you amazed. From the beginning to the end, you won't stop praising the artists who worked hard to develop this aesthetic place. Exploring this place is certainly a walk-through nature.
17. Chennakeshwara Temple, Belur (Karnataka) –
Built-in 11th century, this temple is a masterpiece of Hoysala architecture that would take your breath away with its detailed sculpturing. Also known as Keshava temple, this temple is dedicated to Lord Vishnu. It is assuredly a perfect place to witness the rich heritage of India's art and culture. A wonder indeed!
18. Ahilya Bai Fort, Maheshwar (Madhya Pradesh) –
Well-known as the 'Gem of Madhya Pradesh' the mesmerizing carvings throughout the Ahilya Bai Fort holds the awe-inspiring history you are looking for. Each and every sculpture depicts something interesting about their life. The fort stands tall by the side of Narmada river which undoubtedly enhances the beauty of this stunning place.
19. Surang Tila, Sirpur (Chhattisgarh) –
Surang Tila is an intriguing ancient site on the banks of river Mahanadi and what attracts visitor is the wave-shaped staircase. Only a true history lover can value the beauty of this place. There are many more historical places around like the Laxman Temple which is considered as one of the finest brick temples of India.
20. Sun Temple, Konark (Odisha) –
This 13th-century monument not only unfolds its antiquity but also the science and technology used back then. The architecture of this temple speaks proudly how skilled were those craftsmen who carved out such a majestic site. This temple welcomes a number of tourists every-day but the exploration of this marvelous place is incomplete without a guide.
21. Mahabodhi Temple, Bodh Gaya (Bihar) –
It's a Buddhist Temple with a blissful surrounding encircling the positive energy in and around. This temple is considered as one of the most sacred Buddhist temples around the World as it is said to be the place where Gautam Buddha attained enlightenment. Mobile phones are not allowed in the temple but you can always capture the essence of this magical place in your camera.
22. Ajanta & Ellora Caves, Aurangabad (Maharashtra) –
These are two different Caves – Ajanta Caves and Ellora Caves which can be explored with separate tickets. There are 34 caves at Ajanta depicting Buddhism while the Ellora comprises of 29 caves packed with carvings of Buddhist, Hindu, and Jain. The Paintings and sculptures serve as the finest surviving examples of Indian art.
23. Gwalior Fort, Gwalior (Madhya Pradesh) –
Speculated to be built in the 8th century, Gwalior Fort proudly conveys the folklore of the bygone era. The architecture of the fort is indeed a masterpiece. The light and sound show held in the evening brings back the history before your eyes. It is said that the Mughal emperor Babur (1483-1531) described Gwalior fort as, "The pearl in the necklace of the forts of Hind."
24. Jallianwala Bagh, Amritsar (Punjab) –
A sacred monument that holds the key to the heart-wrenching past, Jallianwala Bagh is indeed one of the exceptional and must-visit historical places in India. This place is marked with the sacrifice of so many innocence lives. The bullet marks on the wall would never stop yelling how gruesome that Sunday of 1919 was.
25. Group of monuments, Pattadakal (Karnataka) –
UNESCO has described Pattadakal group of monuments as "a harmonious blend of architectural forms from northern and southern India" and an illustration of "eclectic art" at its height. Inscriptions of Ramayana, Mahabharata and Bhagavad Geeta enriches the architecture of Mallikarjuna, Papanath and Virupaksha temples. Pattadakal unquestionably deserves to be explored.
So, these were the 25 must-visit historical places in India according to me.
These places may not be as renowned as Chittorgarh Fort or Sanchi Stupa or monuments of Agra and Delhi, but I am telling you, these are positively some of the spectacles and must-visit historical places in India. And yeah, if you wish to experience Indian history to its core, explore Rajasthan as best as you can. Rajasthan is where history lovers go to fill their soul.
I truly hope you found this blog both interesting and informative. If so, please do comment and appreciate our efforts.
Keep exploring!