Since you are here, I guess you must be having an iPhone and looking for some cool iPhone tricks for it. Well, congratulations, you are reading the right blog. (Woohoo)
It's time to know some amazingly handy iPhone tricks which you were missing all these days. iPhone is not only booming the market but is also ruling the hearts of many by its magnificent look and features. Though you carry an iPhone like a dude or a daddy's princess, I am sure you must not be fully aware of its functions. Hence, we have brought you a few game-changing iPhone tricks that will make you feel like – Oh I know everything, I am the best. (just kidding)
Okay now let me tell you, this is only the first part. You can also check out the second part with another 20 iPhone tricks. For now, make your iPhone working handier and cooler with these amazing iPhone tricks.
Enjoy the show! (huh)
1. Shake it to Undo or Redo –
Do you make a mistake while typing a long message and want to delete it?
Well, just shake your mobile phone to undo. Isn't it cool? Just give it a try. If you want to recover (redo) the text message then shake it again.
2. Calculator backspace –
Many a time, you may have come across a situation where you added an extra digit while doing calculations in hurry or you might accidentally have pressed the wrong digit but could not able to find the backspace option.
Actually, backspace option was always there for you. You just have to swipe left or right over the number screen.
3. Copy or Paste values in Calculator –
Hey! Are you bad at memorizing large numbers while calculating? If yes then you don't have to worry at all.
In the iPhone calculator app, you can copy or paste the numbers by pressing and holding the number screen.
4. Take a quick shot –
Is your iPhone locked? Do you want to take snaps without unlocking the iPhone? Are you in a hurry to take a snap?
Just swipe right to left from your home screen to unlock Camera option or swipe up on the little camera icon in the bottom right corner of your home screen.
5. Faster battery Recharge –
Turn on Aeroplane mode while recharging which will speed up the charging as fast as twice.
6. Take burst shot or multiple photos –
Are you bad at taking photographs at the right time? No worries, burst photo will work as savior.
You just have to press and hold the capture (shutter) button in camera. It will take multiple photos for you so you can get the perfect one amongst it.
7. Double tap spacebar to add the full stop (.) –
You can terminate and start a new sentence by just double tapping the spacebar.
8. Take photos with the volume button –
You can use the volume button to take a snap while the camera app is open.
9. Faster Navigation while browsing –
While browsing, if you need to enter a URL (domain name) manually, then just press and hold the period (.) button to automatically add the suffixes to any website (such as .com .org .in .net etc).
10. Timestamp of sent messages –
Many of you might have come across a moment when you were unable to see the timestamps of your text messages.
11. Set custom Vibration pattern –
In iPhone, there's the provision to change the pattern of vibration for notifications.
Go to Settings > Sounds > Ringtone > Vibration > Create New Vibration.
You can create and set a custom vibration pattern for different people just to identify who is calling you or texting you by the vibration only.
12. Perform Faster Calculation without accessing Calculator app –
If you are in a hurry to do the faster calculation and unable to locate calculator app or want to do calculations without even opening the app then there's another way you were unaware about.
If you are in a circumstance where you need to perform complex calculations when the iPhone is locked then this trick will work best for you.
When you are at Home screen or notifications screen, just swipe right. You can see the search bar at the top of the screen. Type the numbers to perform arithmetic operation. Then the iPhone will generate the result for you.
13. Allow LED Flash to blink for notifications alert –
Do you want to set LED flashlight for alerts to grab more attention? Just follow these easy steps. This feature is especially designed for people with hearing impairments.
Go to Settings > General > Accessibility
Then scroll downwards to the "Hearing" section
Now, click on "LED Flash for Alerts" and enable this feature
14. Disable the Feedback popup –
If you are getting annoyed by feedback popup to rate the applications then you can put an end to these popups.
Go to Settings
Click on iTunes & App Store
Then disable the In-App Ratings & Reviews option

15. Hide Message Threads Alert –
This trick is beneficial to hide the message alert when you get bombarded with too many promotional messages from a particular person or group.
Open Messages
Click and swipe to left direction on a text conversation
Then tap on Hide Alerts option.
16. Set a strong Password with Letters –
Would you like to set a strong password to your iPhone with letters instead of numbers? Then it's not a big deal at all. You can set the password as per your willingness.
Go to Settings
Scroll down and click on Touch ID & Passcode
Enter Passcode (original)
Then search for the Change Passcode option.
Enter your old Passcode
Click on Passcode Options
Select the option as per your convenience
Enter your new passcode
Verify your new passcode
Done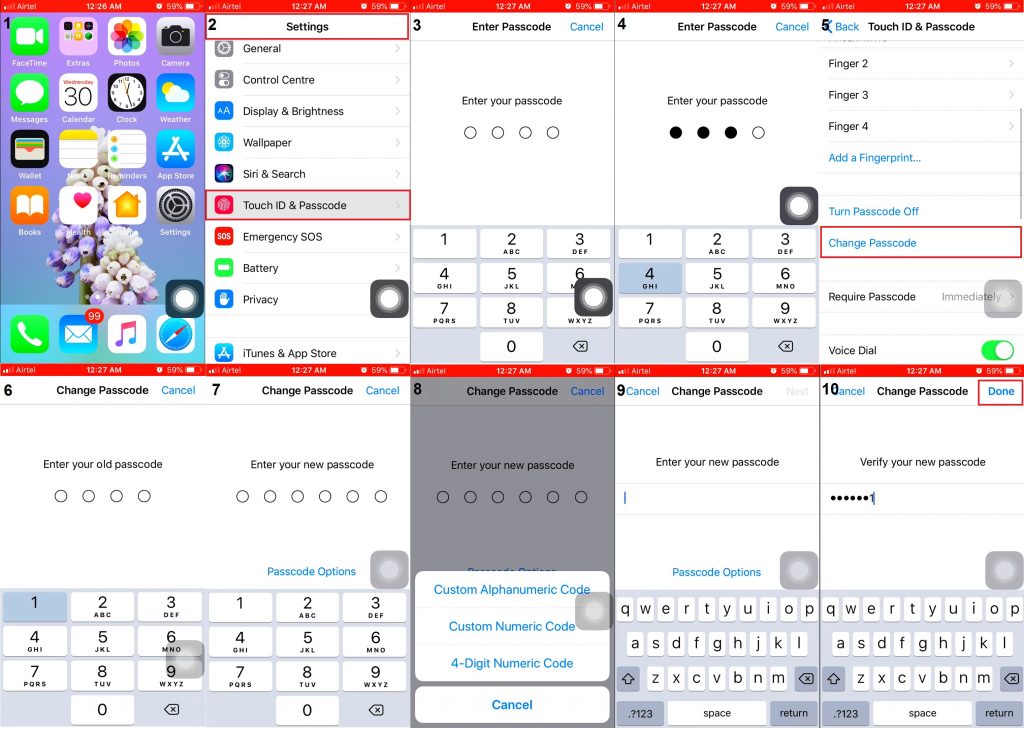 17. Capture Screenshot –
One of the most widely used tricks especially by girls, where they use it as a powerful weapon during breakups or sometimes to keep the screenshot of lovely memories of conversation.
Taking screenshot is mainly used when you are unable to save a picture or data. You just need to press power and home button (both buttons) at the same time. Tadaa! You are done.
18. Hey Siri –
If you are a fanatic user of Siri or when you are driving a vehicle, this feature will work like a gem. You can access Siri by just saying "Hey Siri."
Go to Settings
Scroll down and click on Siri & Search
Turn on Listen for "Hey Siri" option.
19. Set quick Alarm –
Feeling sleepy? Do you want to set a quick alarm without any extra efforts? Siri will do it for you.
Ask Siri to "wake me up after X hours (time)" and she will do it for you within a fraction of seconds.
20. Siri – Read my email –
Say "Read my email" to Siri and she will read the mails for you. You can even tell Siri in a different way such as "Read the recent mails" or ask her to read emails from specific person i.e. "Do I have emails from Asking Minds?"
So, these were some cool iPhone tricks for you to work smartly with your iPhone. Don't forget to check out – 20 iPhone tricks you should definitely know (part 2)
Do tell us in the comments section below if you know any more such cool tricks. Also, let us know if these tricks were helpful, in the comments.
Keep reading!
Keep exploring!
Effort is important but knowing where to make an effort makes all the difference.
You may also like: 101 Computer Shortcut keys to upgrade your efficiency at work